In its guidelines for jointly addressing endemic malaria and pandemic COVID-19, the World Health Organisation (WHO) re-emphasised that sustaining effective malaria interventions will rely on the uptake by individuals and households, especially in rural areas and communities in need. Yet how do we ensure that they are being reached?
To answer this, APMEN dedicated a session during their Annual Meeting today to this very topic. Hosted by APMEN, APLMA, the Regional Malaria CSO Platform and the Comic Relief-GSK Partnership, the event brought together policy makers, practitioners, civil society advocates and the private sector from across the Asia Pacific to explore how community-based approaches to malaria elimination can be sustained through the COVID-19 pandemic and contribute to broader health system strengthening. This event formed part of Malaria Week 2020, and represented all of its key themes: Inclusion. Integration. Innovation.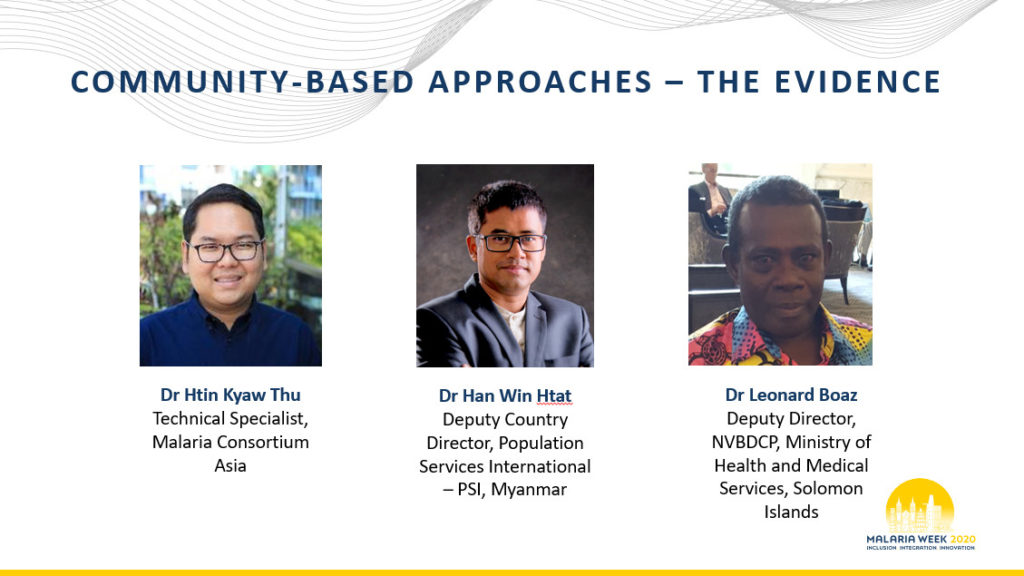 Community-based approaches
Increasingly, within and outside of civil society, there is a recognition that communities have an active role to play and that they should participate in highlighting and addressing the issues that matter to them, including malaria interventions.
Community approaches have proved to be cost effective ways to help overcome barriers, especially for those hard to reach populations. Such approaches are intended to bridge the gaps in health service delivery at the community level.
This session on community-based approaches drew on critical insights and learnings from the Comic Relief – GSK Partnership supported community-based projects in the Greater Mekong Subregion (GMS), that aimed to strengthen health systems' ability to fight malaria and improve people's health by working with communities and health workers to make a big impact on reducing the numbers of malaria cases and deaths caused by the disease.
It has, for example, supported:
Malaria Consortium to train malaria volunteers in Myanmar to extend their roles to safely detect and treat diarrhea and pneumonia in young children, along with testing and treating for malaria
PSI to extend its network of private providers along the remote mountainous areas of the Myanmar/India border to offer malaria services as part of an integrated package of care in areas with the highest risk and least served by the public sector.
In the GMS, they have reached more than 1.7 million people, including over 165,000 pregnant women and over 226,000 children under five and have gathered critical knowledge. The session provided an opportunity for APMEN partners to learn from these experiences and discuss what can be transferred across the region more broadly, as well as at their own national and local levels.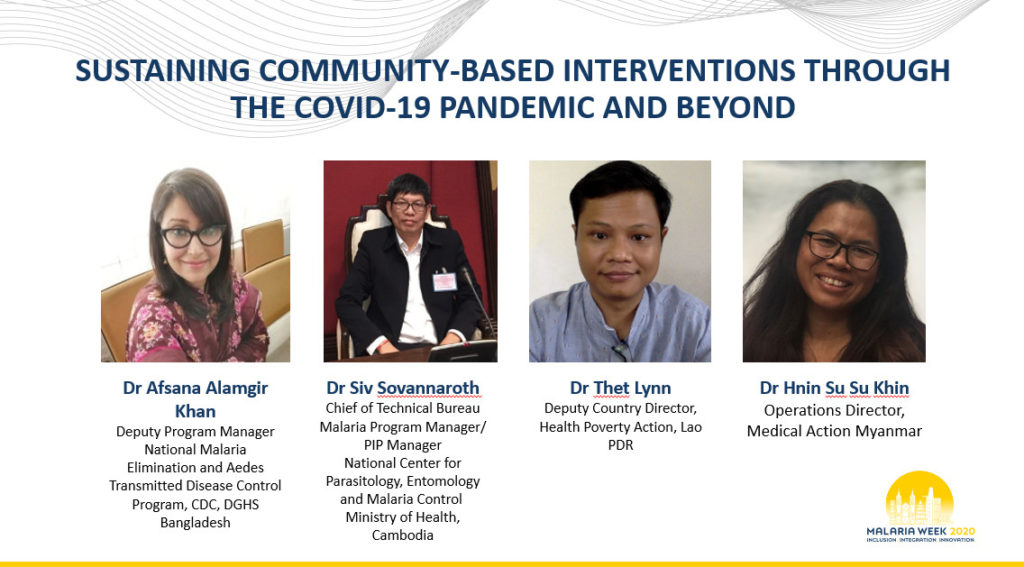 Looking Ahead
Community-based approaches can be an effective tool and can be expanded beyond malaria interventions, to other diseases and the broader health systems, in particular regarding Covid-19 responses. Now more than ever, as we continue to face a global pandemic, it is evidently clear that integrated health systems need to be prioritised and that malaria can no longer be considered in a silo.
Today certainly highlighted the importance of both partnership and integration, especially as a result of Covid-19.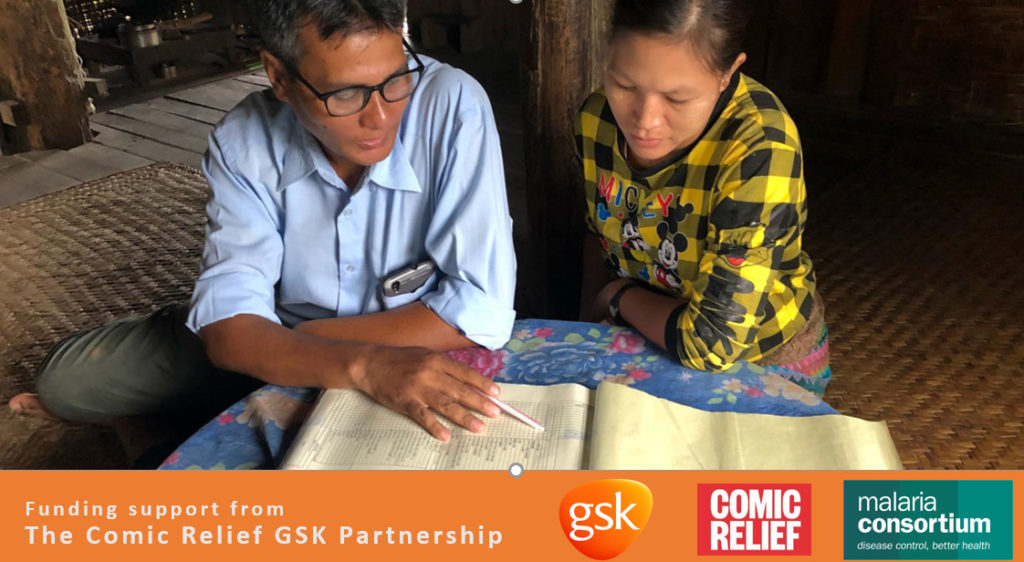 If you'd like to find out more about the Comic Relief/GSK partnership, please visit https://www.gsk.com/en-gb/about-us/comic-relief-partnership/. For more information on APMEN support available, please contact the APMEN Secretariat: secretariat@apmen.org 
We would like to give a special thank you to our session contributors:
Ms Josselyn Neukom, APMEN/APLMA Consultant
Mr Ben Sadek, Comic Relief
Dr Afsana Alamgir Khan, Deputy Program Manager, Malaria & ATD, Ministry of Health and Family Welfare, Bangladesh
Dr Leonard Boaz, Deputy Director, VBDCP, MOHMS Solomon Islands
Dr Htin Kyaw Thu, Technical Specialist, Malaria Consortium Asia
Dr Han Win Htat, Deputy Country Director, PSI Myanmar
Dr Siv Sovannaroth, Malaria Program Manager, CNM Cambodia
Dr Hnin Su Su Khin, Operations Director, Medical Action Myanmar
Dr. Thet Lynn, Deputy Country Director, Health Poverty Action, Lao PDR
Thank you to everyone who attended the Annual Meeting. A recording can be viewed here https://youtu.be/-KjEtD8FkdE.