"Malaria is just like a fire. It can flare up and spread if we don't stay on top of it, so it has to stay front and centre through the COVID pandemic and it must remain at the top of the political agenda"

Dr Kenneth Staley, U.S. Global Malaria Coordinator, U.S. President's Malaria Initiative
The National Institute of Malariology, Parasitology and Entomology (NIMPE) Viet Nam hosted Malaria Week 2020 in collaboration with the Asia Pacific Leaders Malaria Alliance (APLMA), the World Health Organization (WHO), the Asia Pacific Malaria Elimination Network (APMEN), the Global Fund To Fight AIDS, Tuberculosis and Malaria, and the RBM Partnership to End Malaria. Convened annually, Malaria Week provides an opportunity for key malaria stakeholders from diverse sectors to plan their cooperation towards the regional 2030 malaria elimination goal.

Malaria Week 2020 culminated in the 5th APLMA Senior Officials' Meeting (SOM), where senior government officials reviewed regional progress using the Five-Year Regional Progress Report to be delivered to the 2020 East Asia Summit and identified key challenges to malaria elimination.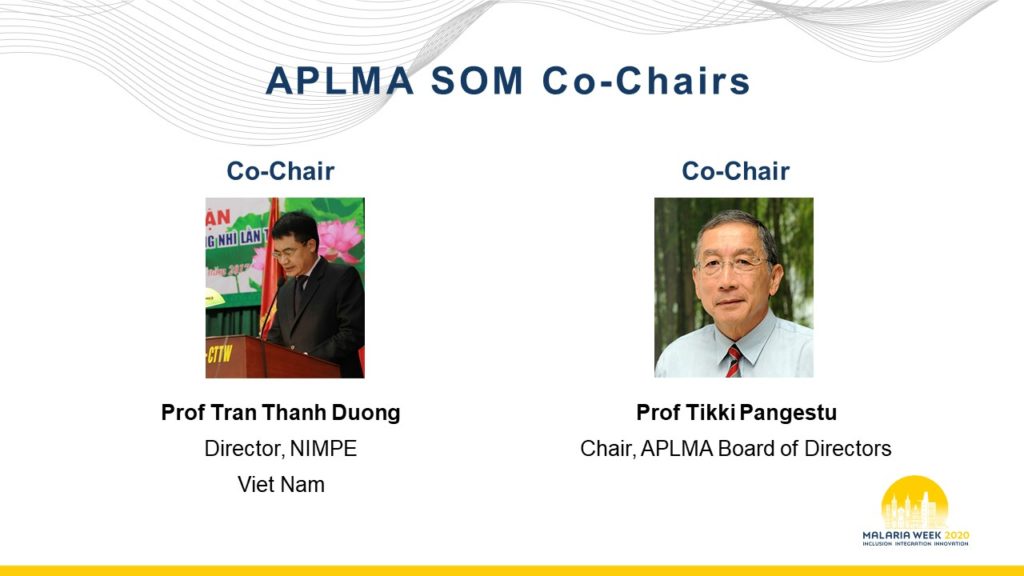 Participants explored best practices and innovative approaches to maintain accelerated malaria elimination efforts in a time of pandemic disease. Mr Gaurav Gogoi, MP and Founding Member of the India Parliamentarians for Malaria Elimination Group expressed hope that we do not return to a 'business as usual' mindset after COVID-19. "Sitting where I am, we do not seem to be learning enough, looking at patterns and data and how we can predict future outbreaks. We need access to much more data and better mechanisms to gather data, with a data based scientific approach", said Mr Gogoi. His two take-aways on the pandemic and what this means for the fight to end malaria:
● There is a need to increase investment in healthcare
● In this deglobalised world where political leaders are shrinking, COVID-19 has shown that we cannot shrink from our collective responsibility. It has reminded us of our global responsibility and that a global concerted effort is required.
Professor Dyann Wirth from Harvard University echoed the above as she shared her views on global lessons and how they can be applied to the region. We require a new way of thinking both about the fundamental problem, how efforts are implemented, how malaria programs operate, and how money flows. Financing has been disease specific over the last 20 years but with tax revenues contracting in this time of pandemic disease, we need to no longer think of malaria as a single disease and instead work on integration with other disease efforts.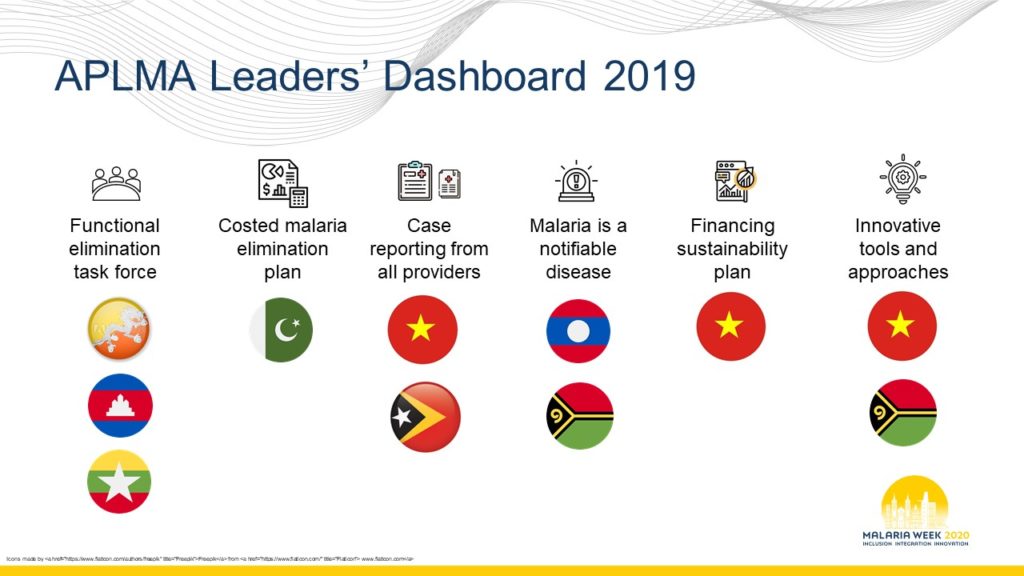 Government officials and key partners participated in breakout sessions to identify actionable solutions to key challenges, on surveillance, financing and innovation. Targeted surveillance at national and sub-national levels is a must, as is real-time and comprehensive reporting. The right kind of data is needed at the right time. An idea emerging from the discussions was the creation of a 'surveillance methods' checklist that lists the method, used in each country, and how. This can be a useful resource, to build capacity across the region too.

There was a general acknowledgement that, of course, maintaining financing for malaria becomes more challenging in times of limited resources and competing priorities during the Covid pandemic. Political commitments by governments, as well as cultivating national and regional malaria champions, is crucial for sustained domestic investment in health systems. Malaria financing and pandemic preparedness and response are intrinsically linked. Therefore, to deploy the 32,000 village malaria workers in the Greater Mekong Subregion to also detect COVID-19 or other febrile diseases will strengthen health systems and increase the efficiency of health spending. Attendees re-emphasised the importance of demonstrating results to make the case for continued health and malaria financing, by showing outputs and effective use of funds.

Finally, the Innovation breakout group reported that we need to ensure key populations have timely access to malaria tools to effectively prevent, track, test, treat every case everywhere including tools for the radical cure of P. vivax malaria, in the context of the health system as a whole with the goal of universal health coverage. Overall, officials agreed that elimination and the 'last mile' will require strong leadership, cross-border and inter-agency cooperation and good governance, as well as integrated efforts at the federal, provincial, and local levels while employing existing and new tools to combat malaria. When referring to innovation, we have to think broader and that it's not just about new tools, but also innovative program delivery and policies to integrate malaria into Universal Health Coverage too. The fight against malaria must be seen in the context of social environment, social equality, and social justice.

The outcomes of these discussions will be highlighted in a Call to Action.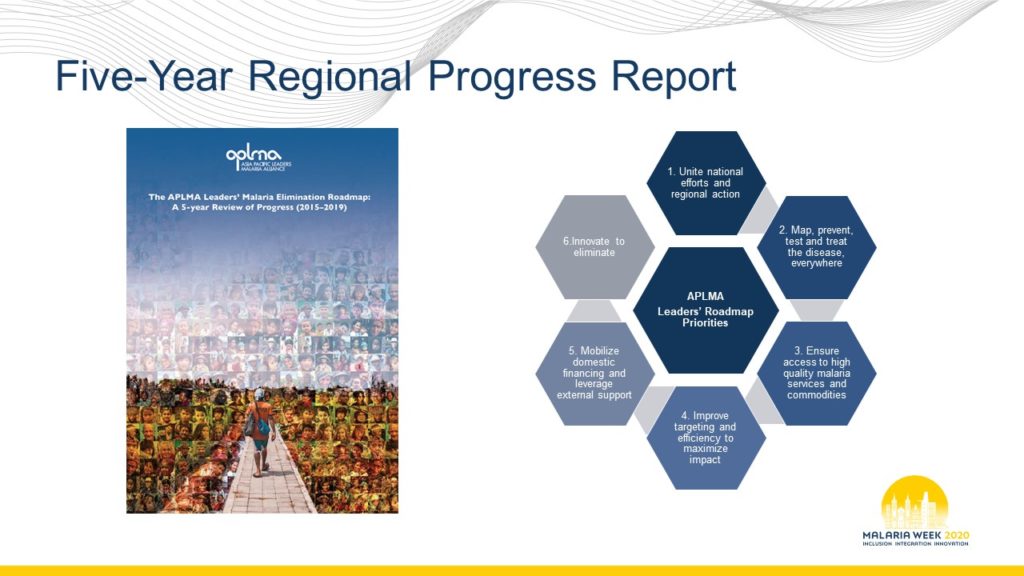 Related resources available:
To access the recording, please follow this link: https://youtu.be/k9d44HkCbGY
You can access all the event summaries to read more about innovation, financing and surveillance here: www.malariaweek.org
With special thanks to:
Prof Tran Thanh Duong, Director, NIMPE, Viet Nam
Dr Pedro Alonso, Director, Global Malaria Programme, World Health Organization
Dr Rose Nani Mudin, Head of Vector Borne Disease Sector, Ministry of Health Malaysia
Dr Ngo Duc Thang, Chief of Epidemiology Department, NIMPE, Viet Nam
Mr Gaurav Gogoi, MP and Founding Member, India Parliamentarians for Malaria Elimination Group
Dr Huy Rekol, Director, National Center for Parasitology, Entomology and Malaria Control, Cambodia
Prof Dyann Wirth, Richard Pearson Strong Professor of Infectious Diseases, Harvard T.H. Chan School of Public Health, Harvard University
Dr Urban Weber, Head of High Impact Asia, Global Fund
Dr Kenneth Staley, U.S. Global Malaria Coordinator, U.S. President's Malaria Initiative
Dr Karma Lhazeen, Director, Department of Public Health, Ministry of Health, Bhutan
Dr Peter Cowley, Coordinator, Health Policy and Service Design Unit, World Health Organization
Dr Le Viet Dzung, Deputy Director General, Drug Administration of Viet Nam
Dr Rajiv Tandon, Director, Health, RTI International India
Prof Tikki Pangestu, Chair, APLMA Board of Directors
Jost Wagner, Change Initiative
We also want to thank everyone who joined us for Malaria Week 2020. We are thankful for your insightful contributions; you are helping to shape the policy discussion and build the foundation of strong regional cooperation so that united, we can defeat malaria in Asia-Pacific.