The second day of Malaria Week 2020 focused on surveillance and timely reporting. Discussion centred on the importance of strong surveillance systems and real time data, during COVID-19 pandemic and for other infectious diseases, in terms of identification, tracing and informing necessary public health measures. It also highlighted gaps in current malaria surveillance and reporting systems and ways to improve them.
"If you can't measure it, you can't eliminate malaria."

Prof. Tikki PANGESTU
During opening remarks, Professor Tikki Pangestu (Chair, Board of Directors, APLMA) emphasized three things:
1) The What: we need stronger surveillance of (1) actual cases of malaria; (2) vectors that spread the parasites; and (3) evolution and changes in drug resistance.
2) The How: strong health information systems are needed that are robust, comprehensive, timely, inter-operable, and integrated. This means that local and national systems need to speak to each other and that exchange of data between countries, as well as public and private providers should be easier.
3) The Why: strong surveillance systems are needed to design effective policies and prioritise resources. Additionally, we must get smarter in using big data and AI to better identify and forecast future outbreaks; in this way such surveillance can alleviate pressure on a health system by providing warning signs.
Meeting participants benefited from hearing some regional perspectives on these issues, before breaking up for small group discussions. Ms Laura Fisher (Adviser-, Strategy and Planning, Indo Pacific Centre for Health Security), one of the session speakers, reiterated that "strong surveillance is the cornerstone of national and regional health security and can help the health system by absorbing the shock of the emergency and continue to provide regular health services by directing resources including surge capacity where it is needed most".
"Investing in surveillance is helping to save money and conserve resources for other crucial uses and health priorities. Most importantly, it can help save lives."

Laura Fisher, Advisor for strategy and planning, the Indo-Pacific Centre for Health Security, DFAT-Australia.

We know that the disease is retreating to hard-to-reach areas and largely being confined to groups like migrant and forest workers, meaning the ability to map, prevent, test and treat everywhere becomes critical if we are to reach the last mile. India has also developed specific strategies in this area and one of our panelists, Dr Neeraj Dhingra (Director, National Vector Borne Disease Control Programme, India), spoke of India's efforts to reach those in tribal and border areas with poor health infrastructure. Dr Neeraj also spoke extensively about India's response to the Covid-19 pandemic and how despite some initial delays, the national malaria program was able to adapt. Some of the measures taken included advisories to states and constant engagement with state governments plus buffer stocks of drugs and diagnostics.
What has become abundantly clear to all is that advanced preparation is critical. Even though it is difficult to bridge gaps in the middle of a pandemic, it is never too early to be prepared for the next emergency. As countries and the global health community reflect on this ongoing pandemic, we do have frameworks such as International Health Regulations (IHR) that are useful as a guiding post.

Many countries are moving towards making malaria a notifiable disease, as an effective strategy to ensure timely reporting from all the providers of all cases. To share the Chinese perspective, Professor Gao Qi (Senior Professor, Jiangsu Institute of Parasitic Diseases), spoke to the group on shared lessons learned from China's management of COVID-19 and malaria. In China, malaria has been listed as one of the notifiable diseases since 1956 at which point the government started to design a national infection control working plan that included malaria.
Professor Gao Qi highlighted the '1-3-7' malaria case reporting strategy, implemented in 2012, which has been a key factor in helping China reach zero locally-transmitted cases of malaria in 2017. For World Malaria Day 2020, China stated that eliminating malaria plus COVID-19 control happens together, preventing re-introduction together. He also stressed that we must insist on, and work towards, having complete datasets in order for countries to make informed decisions at both the national and sub-national levels.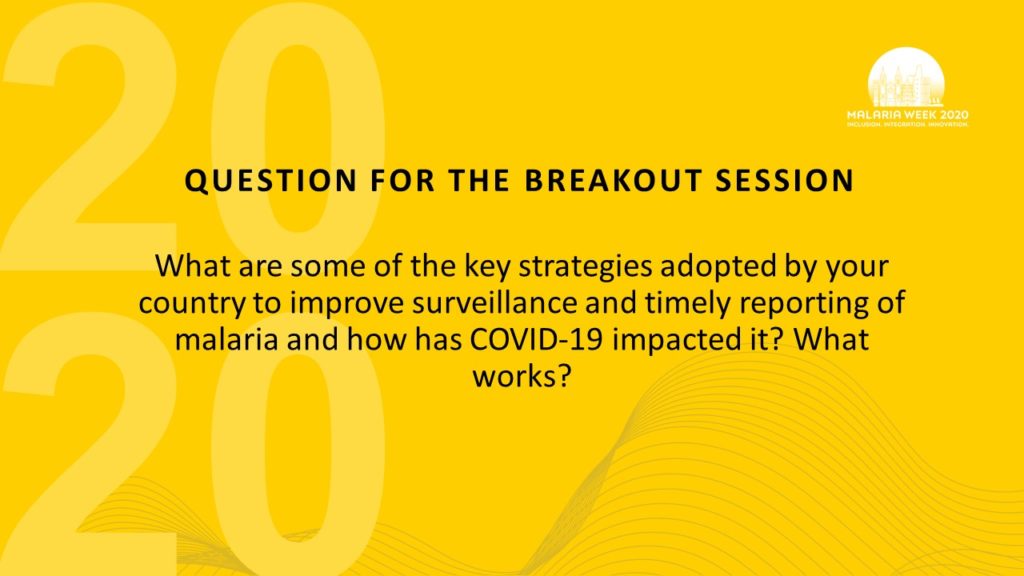 During the World Cafe style breakouts, discussion amongst participants continued and covered national strategies to improve surveillance, looking at what works and how COVID-19 has impacted such efforts.
Attendees were then called upon to share the insights from their breakout group discussion. Participants stressed upon the importance of innovative surveillance mechanisms and technologies, which are needed to cover at-risk populations.
Countries such as Bhutan, Myanmar, and Indonesia are developing specific strategies to reach these populations and Cambodia, for example, is trialling the use of smart phones for community level reporting through health facilities. Many in the meeting agreed that community health workers are important for both health promotion/education activities, including early diagnosis and treatment, and as active surveillance agents to provide seamless service delivery. We must continue to invest in their capacity.
Participants also highlighted the challenges of incomplete data with limited utility and minimal integration with national databases. Thorough real-time reporting must be accompanied by real-time analysis (i.e. a capacity to understand what the data is indicating) in order to provide quick responses at the local level. In terms of what next, as several participants referenced, countries should also work on transitioning from paper-based legacy systems towards electronic, interoperable systems, as making malaria a notifiable disease will not work without such migration.
What struck the breakout co-chair, Dr Serene Joseph (Technical Officer, Neglected Tropical Diseases, WHO Indonesia Country Office), is that whilst COVID-19 is of course a crisis, participants could see the opportunities it presents. There are many examples of best practices emerging from countries that we can learn from, such as the utilization of mobile consultation with focal points assigned at each health care and mobile clinic and that as COVID-19 and malaria have similar symptoms, COVID-19 teams can test fever cases for malaria at the same time. It is clear that local capacity and leadership is critical to both malaria and COVID-19 response.
From all the fantastic insights and conversations, Professor Pangestu closed the session by distilling the following key messages in terms of what is needed now. APLMA shared these recommendations at the Senior Officials Meeting on Friday, 11th Sept 2020:
Real-time data with supportive systems to analyse and respond in timely fashion to information gathered through surveillance: Real-time local surveillance together with robust health systems and proven strategies (e.g. social distancing during Covid-19) will be the key to fighting future pandemics. Real-time analysis and response must complement real-time data availability (of the right kind of data) and we need to improve the data-policy-action links.
Data integration data between public and private sectors: Mandatory time-bound notification of malaria within and across Asia Pacific countries is necessary, irrespective of cases from all service providers, public, private and community. Acknowledging that the private sector is critical if we are to identify, document, and investigate all malaria cases. Private providers are often excluded from routine information systems and real-time reporting systems because of the lack of knowledge about how to effectively engage the private sector. An important area for further exploration and research is how the (diverse range of) private sector providers (with varying levels of capacity) can be encouraged or incentivized to provide data and information to malaria programs, as they are often those closest to the ground. Overall, there is a need to facilitate better integration of data between national malaria programs, public providers, and private providers.
Sub-national malaria programs need to be supported: Effective surveillance and response requires that malaria programs closer to malaria cases and deaths (i.e. at the community and district level) are able to respond in real-time. Thus, sub-national capacity building must be a priority for all countries. Staff need to be trained in the use of new digital and online reporting systems and in data analysis for effective action. As caseloads go down, they must also be supported to retain skills as the workforce is integrated into the health systems.
Importance of international collaboration in an interdependent world, across the region and beyond: International agreements, regulation, coordination and global technical strategies will be critical going forward. Additionally, networks such as APLMA & APMEN will play a growing role in advocating for resources and convening partners. During the Senior Officials Meeting when this was discussed, the idea emerged of a checklist of surveillance methods, listing in which countries and in what ways they are deployed, in order to build more capacity across the region. Finally, collaboration should also be strengthened through engagement of a broader set of actors; for example not just a Ministry of Health but also Ministries of Foreign Affairs and of Finance.
Related resources available:
With special thanks to our speakers:
Jost Wagner, Change Initiative
Prof Tikki Pangestu, Board Chair, APLMA
Ms Laura Fisher, Adviser-Strategy and Planning, Indo Pacific Centre for Health Security
Prof Gao Qi, Senior Professor, Jiangsu Institute of Parasitic Diseases, China
Dr Neeraj Dhingra, Director, National Vector Borne Disease Control Programme, India
Dr Serene Joseph, Technical Officer, Neglected Tropical Diseases, WHO Indonesia Country Office