As part of Malaria Week 2020, today APLMA co-hosted a breakout session on the importance of innovative tools and approaches to eliminate malaria, alongside our partners at Medicines for Malaria Venture, PATH, and the RBM Partnership to End Malaria. This dialogue was the third in a series of online roundtables entitled Malaria Gamechangers: A Health Innovation Series.
Malaria Gamechangers: tools against relapsing malaria
The overall aim of the series is to accelerate the introduction and uptake of existing and novel tools as well as delivery approaches, not just for malaria elimination but also to strengthen health security.
The four topics covered in this session were the impact of COVID-19 on access to tests and drugs; the rising burden of relapsing malaria (P. vivax) as we approach elimination; solutions to address P. vivax malaria in Asia pacific; and improving access pathways for all treatment options to tackle infectious diseases.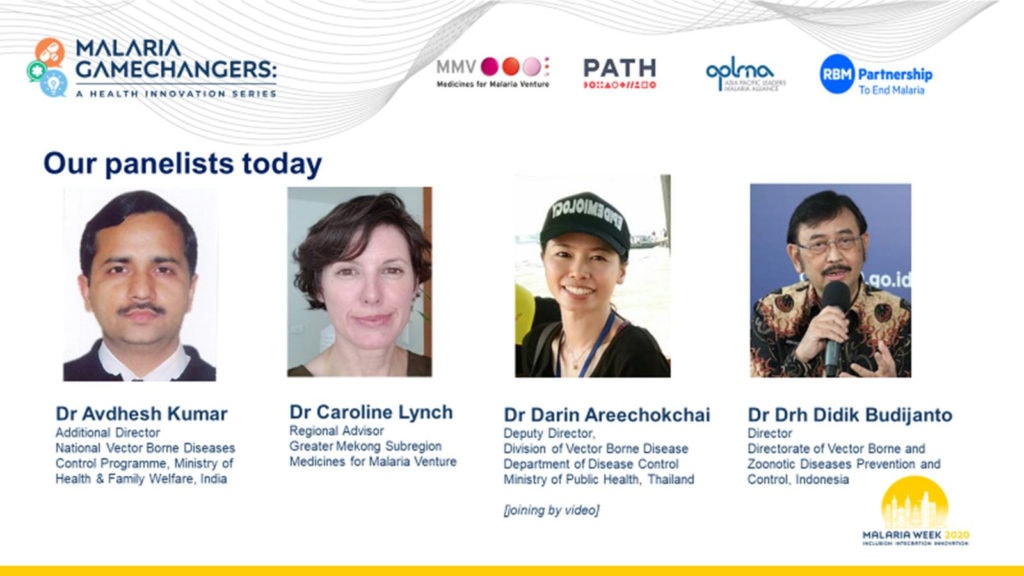 One of the panelists, Jayeeta Chowdhury, India Health Fund's Program Director, highlighted some key points to kickstart the conversation:
Collaboration between all stakeholders involved in access is essential to identify key bottlenecks and matching solutions. This ensures that innovations answer an expressed need.
Some innovations are facing regulatory bottlenecks, such as not receiving timely regulatory approvals after the validation process. She also explained that cross-border cooperation is critical to scale up and accelerate access to innovations across geographies, through for example, regulatory reliance.
Beyond access we should think of implementation and use of these innovations. Particularly, how these will reach vulnerable populations.
It was noted that innovation does not always mean new technology and tools, it can also mean innovation in delivery approaches that maximize uptake and utilization. Innovation in product and process; they need to go hand in hand.
In general, the panel discussion highlighted the importance of access to, and the roll out of, a safe radical cure for relapsing malaria, to reduce transmission and support elimination as well as stronger health security in the region. Panellists explored both existing strategies and how these can be applied more effectively, as well as new tools that can help accelerate progress to eliminating P. vivax. Whole-of-government coordination is key to scaling access to new malaria tools. Senior officials are ideally placed to unite efforts from ministries of health, finance, commerce and trade and other relevant agencies to overcome bottlenecks along the path to scaled access and malaria elimination.
The roundtable highlighted several lessons learned from COVID-19 in terms of research and development, supply chain and access bottlenecks and solutions, with the panellists addressing the impact of the pandemic on access to essential health commodities including diagnostic tests and treatments for malaria.
In her remarks, Dr Caroline Lynch, Mekong Regional Advisor, Medicines for Malaria Venture (VivAccess) shared with participants that we need to answer several questions on how to operationalise these tools before national policy changes. Those questions include identifying where they are needed, in what combination and how they can be deployed safely in areas with high vivax caseloads. Evidence-informed decision making is a critical approach. We must look at the accessibility and acceptability of new tools as well as ensuring that we proactively prepare health systems for their introduction.
Challenges with delivering an effective response to vivax through the private sector was also discussed at the APMEN Annual Meeting. This was identified as an area that needs further attention and investment to develop community engagement approaches that can be used to inform patients and healthcare providers about the risks and benefits of radical cure.
There were positive case studies shared, including from Thailand, on how to speed up safe access to radical cure options. See here for a video summary.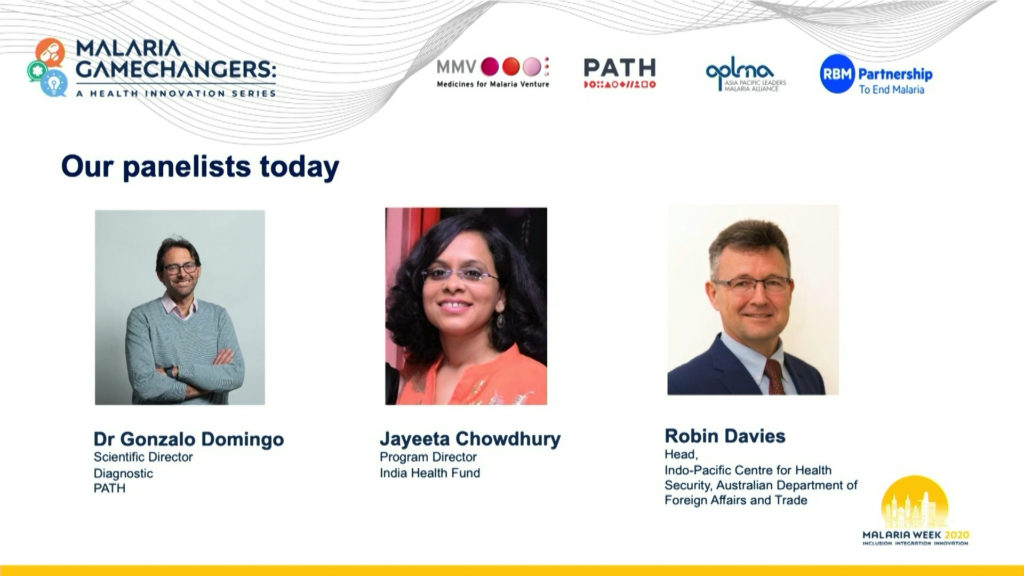 Looking Ahead
APLMA's Dr Marie Lamy brought the session to a close with a summary of the key messages and recommendations that emerged from the roundtable discussions:
Optimal access to diagnosis, treatment and prevention is a key component of national and global efforts to tackle existing and emerging infectious disease outbreaks such as COVID-19 or malaria.
P. vivax represents a significant and growing proportion of total malaria cases in Asia Pacific, achieving elimination will require finding and treating every case by improving the use of existing malaria tools, ensuring their access to the most underserved populations, and introducing new tools for better management of P. vivax where necessary. This includes point-of-care G6PD tests and shorter treatment regimens such as 7-day primaquine and single-dose tafenoquine.
To enable malaria elimination by 2030, countries need accelerated policy and procurement processes for the introduction of new malaria case management tools

The APLMA Senior Officials Meeting. Dr Le Viet Dzung, Deputy Director-General of the Drug Administration of Viet Nam shared the main highlights of this Dialogue with Senior Officials at the APLMA Senior Officials Meeting on September 11th, 2020.

Related resources available:
With special thanks to our speakers
Jost Wagner, Change Initiative
Dr Le Viet Dzung, Deputy Director General, Drug Administration of Viet Nam, Ministry of Health
Dr Sandii Lwin, Founder & Managing Director at Myanmar Health and Development Consortium
Dr Darin Areechokchai, Deputy Director, Division of Vector Borne Disease, MoPH, Thailand
Dr Drh Didik Budijanto, Director, Directorate of Vector Borne and Zoonotic Diseases Prevention and Control, Indonesia
Dr Avdhesh Kumar, Additional Director, National Vector Borne Diseases Control Programme, Ministry of Health & Family Welfare, India
Ms Jayeeta Chowdhury, Program Director, India Health Fund
Mr Robin Davies, Head, Indo Pacific Center for Health Security, Department of Foreign Affairs and Trade, Australia
Dr Caroline Lynch, Regional Advisor, Greater Mekong Subregion, Medicines for Malaria Venture
Dr Gonzalo Domingo, Scientific Director, Diagnostics, PATH
Dr Kamala Thriemer, Senior researcher, Menzies School of Health Research/Coordinator- APMEN Vivax Working Group
Dr Marie Lamy, Director, Access & Policy, Asia Pacific Leaders Malaria Alliance